X
Beyond Budgeting Conference 2014

9 October 2014
The Royale Chulan Kuala Lumpur, Malaysia,

"Achieve sustained high performance by developing empowered and adaptive management models"

This carefully researched and innovatively produced summit will explore the Beyond Budgeting management model through inspiring case studies and insights presented by leading practitioners and from the academe. The Beyond Budgeting management model enables organizations to build lean, adaptive and ethical enterprises that can sustain superior competitive performance.

The conference aims at executives and managers of large and mid-sized organizations. It is of particular interest for persons in General Management, Finance and HR positions.

The summit is organized together with the Beyond Budgeting Institute (BBI) whose purpose is to help organizations achieve sustained high performance, also under turbulent conditions, by developing their management models from command & control towards empower & adapt.

Please watch this video testimonial about how managers and directors from various industries say about the benefit of Beyond Budgeting.

Media Collaboration and Registration Enquiries:
enquiry@neo-edge.com
Eugene Azucena, Senior Marketing Manager – ENERGY & Strategic Management
Phone: +65 6557 9185
Fax: +65 6557 9188

Conference Agenda
09.00
Welcome Address by Neoedge Singapore
09.05
Welcome Address by Beyond Budgeting Institute
09:10
Beyond Budgeting in Current Turbulent Market Conditions
- Jointly presented and facilitated by Bjarte Bogsnes and Anders Olesen

Beyond Budgeting and the principles
The problems with traditional management, including budgeting
Companies on the journey
The international Beyond Budgeting Round Table network

09:55
Group and Plenary Discussion
- Facilitated by Bjarte Bogsnes
Group and plenary discussions about the issues raised in previous session
10:10
Case Study of Statoil: The Statoil implementation journey
- Presented by Bjarte Bogsnes
Statoil is an international energy company and Scandinavia's largest company. It has operations in 36 countries and a turnover of USD130bn. On Fortune 500, the company was recently ranked #1 on Social responsibility and #7 on Innovation.Bjarte's presentation will include:

Statoil's "Ambition to Action" model
redefining performance: dynamic and relative targets and a holistic performance evaluation
dynamic forecasting and resource allocation and no traditional budgets
from calendar-driven to event-driven: a more self-regulating management model
Implementation experiences and advice

10:55
Exploring the Statoil Case
- Facilitated by Bjarte Bogsnes
Group and plenary discussions with Bjarte about the issues raised in his presentation
11:10
Tea Break and Networking
11:30
Beyond Budgeting in New Zealand / Australia
- Presented by Winnie O'Grady
Several companies in New Zealand / Australia have adopted management models that are similar to or inspired by the Beyond Budgeting principles. Winnie will share examples based on her research in this area.
12:15
Exploring the New Zealand / Australia Case
- Facilitated by Bjarte Bogsnes
Group and plenary discussions with Winnie O'Grady about the issues raised in the presentation
12:30
Lunch and Networking
13:50
Beyond Budgeting in Japan
- Presented by Takashi Shimizu
Also many Japanese companies have been interested in the concept of Beyond Budgeting (BB). However, only few Japanese companies have implemented this model. One of the reasons is that the management principles of many Japanese companies already include the essence of BB. Based on his research, Takashi will explain how companies apply the Japanese Beyond Budgeting model and the benefits.
14:35
Exploring the Japan Case
- Facilitated by Bjarte Bogsnes
Group and plenary discussions with Takashi Shimizu about the issues raised in the presentation
14:50
Tea Break and Networking
15:10
Beyond Budgeting in Malaysia
- Presented by Fazlur Rahman Telekom Malaysia Berhad (TM) is Malaysia's broadband champion and leading integrated information and communications group. TM's annual revenue is at RM10bn (USD3.3bn).

Tenaga Nasional Berhad (TNB) is the largest electricity utility in Malaysia and a leading utility company in Asia. Listed on the Main Board of Bursa Malaysia with almost RM87bn (USD26.2bn) in assets.

Based on his experiences with both TM and TNB, both former government departments that were corporatized and later listed on the stock exchange (so-called Govt Linked Companies or GLC's), Fazlur will provide insights as to the respective company's journey in transforming along with the Beyond Budgeting principles. Fazlur will review the underlying reasons for the change, the approaches taken and implementation challenges in both companies; including how these slowly but surely can be overcome.

15:55
Exploring the Telekom Malaysia Case
- Facilitated by Bjarte Bogsnes
Group and plenary discussions with Fazlur about the issues raised in his presentation
16:10
Panel Discussion
Panel discussion with all conference speakers. All participants are encouraged to raise questions for discussion.
16:50
Wrap-up of the Conference
- by Anders Olesen
17.00
Close of the Conference
For full agenda, please contact:
Eugene Azucena – Senior Marketing Manager
+65 6557 9185; eugene@neo-edge.com.
Meet our Expert Speakers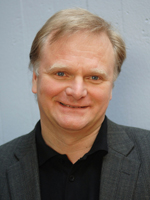 Bjarte Bogsnes (Norway)
Vice President Performance Management Development, Statoil and Chairman of the Beyond Budgeting Institute
Bjarte Bogsnes has a long international career, both in Finance and HR. He is currently heading up the Beyond Budgeting implementation at Statoil, Scandinavia's largest company with operations in 36 countries and a turnover of 130 bn USD. On Fortune 500, the company was recently ranked #1 on Social responsibility and #7 on Innovation. Transparency International has named Statoil the most transparent listed company globally.
Bjarte is Chairman of Beyond Budgeting Institute, and is a popular international business speaker and winner of a Harvard Business Review/McKinsey Management Innovation award. He is the author of "Implementing Beyond Budgeting – Unlocking the Performance Potential", where he writes about his implementation experiences. Statoil realized that traditional leadership and management practices no longer work in today's competence organizations operating in business environments more complex, dynamic and unpredictable than ever. The company implemented innovative alternatives to traditional management, like abolishing traditional budgets and calendar-based management in favor of more decentralized, agile and human processes
---

Winnie O'Grady (New Zealand)
Professor, Auckland University
Winnie joined the Department of Accounting and Finance at the Auckland University in 2000. She was previously employed at Massey University as a lecturer in Accounting Information Systems and Management Accounting. She currently lectures in management control and strategic management accounting. Her areas of expertise are: Management control systems and viable system approaches to performance management. Winnie is a great supporter of the Beyond Budgeting ideas and principles which are taught at the university. Winnie has written several articles about this and related subjects.
---

Takashi Shimizu (Japan)
Professor, Waseda University
Professor Takashi Shimizu has authored many books and articles on strategic management systems and strategic performance systems and consults on the introduction of Japanese management accounting practices into Europe and the US. His areas of research are: Strategic Performance Management including Balanced Scorecard and Beyond Budgeting as well as Cost Accounting. Takashi Shimizu and his team at Waseda University have translated several of the Beyond Budgeting network's books to Japanese.
---

Fazlur Rahman Zainuddin (Malaysia)
Chief Financial Officer, Tenaga Nasional Berhad
Fazlur was appointed as Tenaga Nasional Berhad ("TNB") Chief Financial Officer / Vice President (Group Finance) in 2012. Previously, he served as Chief Financial Officer of Naza Group. Prior to joining the Naza Group in 2010, Fazlur was with Telekom Malaysia Berhad ("TM") in several capacities since 2005, with his last position as Vice President – Business Development. He served for 10 years, from 1995, with Shell Malaysia in various financial management and corporate roles. Prior to that he served for 4 years in public accounting practices including almost 3 years in Price Waterhouse, Kuala Lumpur as a tax consultant. Fazlur also sits in the Board of Directors of Integrax Berhad, a Malaysian public listed port operations company, and various TNB subsidiaries. Fazlur pursued his accounting qualifications in Nottingham Trent University, UK and finished off his final professional papers at Emile Woolf College of Accountancy in London. He is a professional accountant by training, a Fellow of the Association of Chartered Certified Accountants (ACCA), UK, and a member of the Malaysian Institute of Accountants (MIA).
---

Anders Olesen (Denmark)
Managing Director, Beyond Budgeting Institute
In addition to his role as Managing Director of the international Beyond Budgeting network, Anders Olesen is a Partner in Basico, a Danish consulting company specializing in helping private companies improve their financial management practices. Since 2013, Basico is the official Beyond Budgeting Partner in Denmark following many years as an active member of the European BBRT network. Before joining Basico, Anders worked 15 years in various finance and management positions in several international industrial companies. Anders' career started in Arthur Andersen where he earned a degree as State Authorized Public Accountant (similar to CPA). Anders holds a master in business economics and auditing from Copenhagen Business School and an executive master in business administration from IMD in Switzerland. Anders regularly publishes case studies documenting the successful implementation of the beyond budgeting principles.
---
For full agenda, please contact:
Eugene Azucena – Senior Marketing Manager
+65 6557 9185; eugene@neo-edge.com
The summit aims at executives and managers of large and mid-sized organizations. It is of particular interest for persons in General Management, Finance, Planning and Human Relations (HR) positions.
Relevant Job Titles include, but not limited to:
Chief Executive Officers
Chief Financial Officers
Managing Directors
General Managers
Managers
Financial Accountants & Controllers
Management Accountants
Finance Directors & Managers
Business Analysts & Managers
Business Finance Managers
Forecasting Analysts
Budgeting Directors and Managers
Planning Managers
HR Managers
To reserve a slot in the Conference, please contact:
Eugene Azucena – Senior Marketing Manager
+65 6557 9185; eugene@neo-edge.com
Sponsors are provided with an opportunity to capitalize on this global event to send their message across their target audience, to reinforce brand visibility and demonstrate expert solutions.
We can assist your objectives with our Sponsorship and Exhibition Packages which can be tailored to suit your marketing and business strategies.
For Sponsorship Opportunities on this Conference, please get in touch with:
Mr. Nelson Zhu
Business Development Director
Tel: +65 6557 9160
Fax: +65 6557 9188
Email: nelson.zhu@neo-edge.com

The Strategist Private Limited is an established publishing house and consultancy with its core strength rooted in Asia's oil, gas, power and petrochemical industries. We have offices in Vancouver and Calgary, Canada to better serve our customers in the oil, gas, power, engineering, environmental and renewable energy industries.
Founded in 1993, Singapore-based The Strategist produces the EnergyAsia stable of publications. They include:
EnergyAsia Daily on www.EnergyAsia.com
EnergyAsia Report, monthly publication
Renewables Report, monthly report focusing on climate change, solar power, wind power, hydro and biofuels.
Energy Map of Singapore & Johor, Energy Map of China and many other maps
Contact: Admin@EnergyAsia.com
The Emerging Finance is an intelligence company that provides assistance to the banking and financial services industry by providing in-depth information about the key players and economic factors that steer the banking industry. We are strongly connected with the Middle East and North Africa region, and spreading our services to other countries as well. We take pride in the fact that we provide in-depth analyses and deliver information to our clients who come from all over the continent. For further information please visit http://theemergingfinance.com/index.php/services
Live Trading News is constantly updated to bring you top market news from around the world. It is produced by dedicated staff in Hong Kong working with colleagues in Asia and the United States. We also handpick articles from the world's top market blogs, money managers, financial experts and investment newsletters.
Live Trading news gives voice to our readers, providing access to the most savvy and experienced investors.
Our site is a free, online source for stock quotes and research. Live Trading News differs from other finance sites because we focus on what, when, and how. What to buy, when to buy it and how to trade it. We deliver opinion and analysis rather than just all news, written exclusively by other investors and traders who describe their personal approach to stock selection and portfolio management, rather than by journalists.
Live Trading News features the latest multimedia technologies from online digital magazines to searchable archives of news features and background information.
Hedge Connection was built on a foundation of industry experience and guided by the core principles of integrity, partnership and value. The platform represents the evolution from the traditional static database model to a robust, interactive marketing and networking tool. Unlike a static database, Hedge Connection members can actively reach out to each other within a LAMP compliant, password-protected environment. In addition, Hedge Connection offers live events throughout the year to encourage face-to-face meetings and networking opportunities.
Building a successful business is directly related to the people you know. At Hedge Connection, we provide a platform that gives clients the tools to start building important relationships.
We partner with leading publications, online media and associations etc in relevant sectors to achieve win-win results. Our extensive marketing campaigns will ensure you impress the right players at the forefront of the latest industry advancements and expand your business territory.
VisibleBanking.com is an international business social media platform on the topics of digital, B2B social media, banking innovation, the social customer and personal branding.
NRGExpert is an independent energy market intelligence and research company. We specialise in energy market research reports, energy market databases and energy market consulting as well as analysis and market forecasts. Our global energy market research reports cover the electricity, water and waste, gas, hydrogen, nuclear and the renewable energy markets. We follow the energy markets very closely and we produce a wide range of reports, databases and directories. We also answer very specific energy market information requirements with our energy market consulting and data services. Our energy market analysis and forecasts are independent and benefit from our wealth of experience and knowledge about the energy markets and extensive sources that we use. We can help you jump the gap from where you are to where you want to be. We provide information to a wide range of companies, associations, education and government bodies and organisations.
NRGExpert's new series of energy reports cut across all the technologies, identifying and investigating important issues affecting the technologies, rather than concentrating on individual technologies. Experience has raised questions which were not considered when renewable energy power first emerged. The reports detail the facts which planners need to be aware of.
NRGExpert is a trading name of NRG Smarts Limited, registered in England & Wales with Companies House.
Media Collaboration and Early Registration Enquiries:
eugene@neo-edge.com
Eugene Azucena, Senior Marketing Manager
Phone: +65 6557 9185
Fax: +65 6557 9188
The course fee does not include accommodation or travel costs. It is recommended to book the hotel rooms early as there are only limited rooms available at discounted corporate rate. Kindly contact the following for reservation:
The Royale Chulan Kuala Lumpur
No.5, Jalan Conlay, 50450 Kuala Lumpur, Malaysia
Siti Sapiah Harun
Assistant Director of Sales
Tel: +60 3 26889688
DID: +60 3 26889258
Fax: +60 3 2166-6101
E-Mail: siti.sales@theroyalechulan.com.my
Please quote Beyond Budgeting Conference by Neoedge when you book to enjoy Corporate Rate. Thank you.